I went on a walk today with my mom. I love spending time with her. While walking we walked past one of my favorite houses in Frankfort. Mom and I love the details on this home. It's beautiful.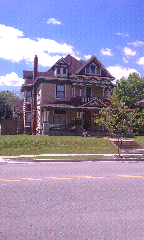 Sorry the picture isn't the greatest since it was taken from across the street and I didn't zoom in.
During our walk we went into an antique shop and saw these beautiful, but very over procedure flowers. Sure compared to the price tag Hobby Lobby would have on it they were cheap, but I could make it myself for much cheaper.
Later on Hubby and I decided to treat ourselves to Applebees. It's been sounding good to me even though I can't get what I really want, the Boneless Buffalo Wings Classic W/ Blue Cheese! Baby doesn't seem to like how spicy they are... But that was when I was getting sick a lot so maybe it'd be different now. Hmm... Only one way way to find out right? So I tried them and so far everything is going good.
I'm still wanting to build stuff REALLY bad, but haven't had the opportunity to yet. Still need to buy the wood and maybe a few other things, but I think besides the wood we have pretty much everything else I would need for my project. Oh and that's right I won't be telling you what this project is not until it's done! Which may be a very long time so prepare to hear me whine a lot about how I want to build it, but can't.
P.S. I can't wait until my baby gets here! Hurry up September!