Those of you who have been/are pregnant and have ever had the Baby Center App on your phone know that they are constantly telling you to pack a healthy snack. So for work today I took this.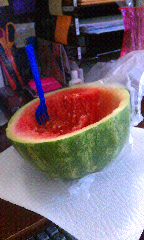 That's right a whole half a watermelon. Well, whole minus 2 pieces that I'd ate previously. And yes, I ate almost the whole thing, plus 2 strawberries. After work, even though I'd been eating on this watermelon all day, I was still hungry! So I came home and had 2 or 3 slices (?) of brownie. And then about an hour or so later I went and ate Chinese, which FINALLY filled me up! So glad to not be constantly eating anymore. Lol.
After Chinese we sat inside and all talked, until most of us started getting restless, then we headed outside like normal to leave, but instead of leaving we all hung out and talked.. or in my husband's case he played with the kids. They love him! And I love that!
It felt really good outside so it was nice to be out there for a while... at least until my feet started hurting. Then I was ready to go. But my husband and the kids were having so much fun that I decided not to say anything. During my not saying anything I got the wise idea of sitting on the back of my step-dad's truck. I thought, "I should get my husband to help me up here," but he was playing with the kids so I thought,"I'll just do it myself it won't hurt me." Wrong. I got a little small, quickly faded pain, which then got me 'yelled at' for getting up there myself. So when it was time to get down I had my husband help me. Next time I'll know to trust my instincts and get help. I feel fine now so I don't think that I did any real damage, but it is a little scary when you get that 'warning' pain.
I cannot wait to meet our little boy! I want to know what he looks like, hold him, take him on walks with me and my mom, put him in his first suit, sing to him, ... I think you get the point. I can't believe that after living most of my life not wanting to be a mom now all I can think about is being a mom. It's what I look forward to. I was more excited to buy that Diaper Bag than any bag I've ever bought for myself. And I'll be so excited to get our car seat, stroller, crib, etc.
I absolutely cannot wait until the nursery is finished, which is hilarious since we haven't even started. But I have the idea and everything wrote down! I just need the paint and all the stuff to go in the room. Oh, and to get all the other stuff out of the room. Lol. And btw I won't be painting so no one freak out on me! Even though I would love to be the one who does most of the work on the nursery I know I can't... I'm not to good with trimming anyways, but I have someone painting the nursery who is a wonderful painter. I know my momma will do a fabulous job. I'm picky when it comes to paint and decorating in general. I don't trust many people when it comes to decorating our house. And who better to have help me than someone who is even more picky than me! And who knows my style, even if she doesn't always agree with it :P
Tomorrow I plan to look at the color strips for the colors I need, possibly buy some paint?, look at the spray paints I'll need, the letters, a ceiling fan,... etc. I won't be able to buy everything we need, but I'll at least get an idea on what I want and the costs. The main thing right now is to get the room painted, it's not like I can start setting things up until the room is painted and dry anyways.
Anyways, that's what's going on here. Hope you all have a good night!